Let's take a look back at some of our favorite stretched vehicles.
Learmousine Jet Limo
The 42-foot-long and 8-foot-wide jet (without wings) was the starting point. The Learjet design team – overseen by Exotic Coach Custom Limousine – then worked for two years to create a one-of-a-kind steel frame that could support the plane's aluminum fuselage. Next, engineers then custom built an electrical system and a full suspension to transform the vehicle into a car.
This stretched ride is no longer jet-propelled. It was equipped with an 8.1-liter Chevrolet V-8 truck engine and the side-mounted turbine engines were refashioned into an interior/exterior sound system which, in addition to playing music at the passengers' request, replicates the sound of a jet taking off when the limo is put in motion. It's street legal with a maximum occupancy is 18 people, including the driver.
The jet body, with a folding upper rear wing, and dark candy red color are hard to miss on the roads. It has a custom steering system with a four-spoke steering wheel from a Chevy Silverado. Inside guests can help themselves to the minibar and dance on the infinity floor.
"The American Dream"
This mega-stretch limousine has held the title of the world's longest limo for decades. It measures 100 feet in length and was certified by Guinness World Records in the mid 1990s. But it's really a luxury suite on 26 wheels because it has a king-sized waterbed, a Jacuzzi-sized swimming pool, and a helipad. The show car has been retired for some time, now, an in 2014 it was acquired by New York's Automotive Teaching Museum.
California custom car designer and collector, Jay Ohrberg built this stretch limo named "The American Dream." Originally a 1970s Cadillac Eldorado, this crazy vehicle grew to have two separate driver's cabins and a traditional saloon decorated with candelabras.
GP Limo
This six-seater Grand Prix race car limousine can reach 300 mph! The genius behind this fast concept is Mike Pettipas and it was tested at the Las Vegas International Motor Speedway.
Giant Panda Limo
Our favorite British gear-heads made an unforgettable episode of Top Gear with a trio of ridiculous homemade limousines. Jermey literally stopped traffic with his super stretched red, 1992 Fiat Panda. He had to remove 7 feet of the vehicle's length from the middle just to make it road-legal, and his co-presenters made fun of his design because it required passengers to use a wheeled platform to reach the backseat.
Notably, Richard Hammond stretched a 1996 MG F convertible and James May created a conjoined limo with a 1994 Saab 9000 and an 1996 Alfa Romeo 164 facing in opposite directions. All of the vehicles failed miserably and hysterically in the various controlled road tests on the track and the real-life road test through the streets of London. We highly recommend watching this episode for a good chuckle.
Retro Volkswagen Bus Limo
This VW bus was stretched to the max to offer passengers a once-in-a-lifetime type of ride. The classic car is a collector's dream and comes with a convertible rooftop, surfboard rack, and fully restored leather seats.
Midnight Rider
This unique vehicle was recognized by Guinness as the heaviest limo in the world in 2004, and claims to be the most expensive limo too. In fact, it's four times longer than a traditional limousine, twice as tall as two Escalades stacked on top of each other, and weighs 25 tons. Midnight Rider was designed by the owners–Pamela and Michael Machado–from California with the goal of allowing guests relive the glory days of luxury railroad transportation.
From the outside, you see a modern, 22-wheel tractor-trailer rig. But the inside of Midnight Rider is totally different. The luxurious interior details were inspired by the Pullman locomotive used by President Grant and created in the same way–using real without using real fabrics, brass accents and solid birch and without any plastics, imitation materials, or staples.
Harley Davidson Stretch Limo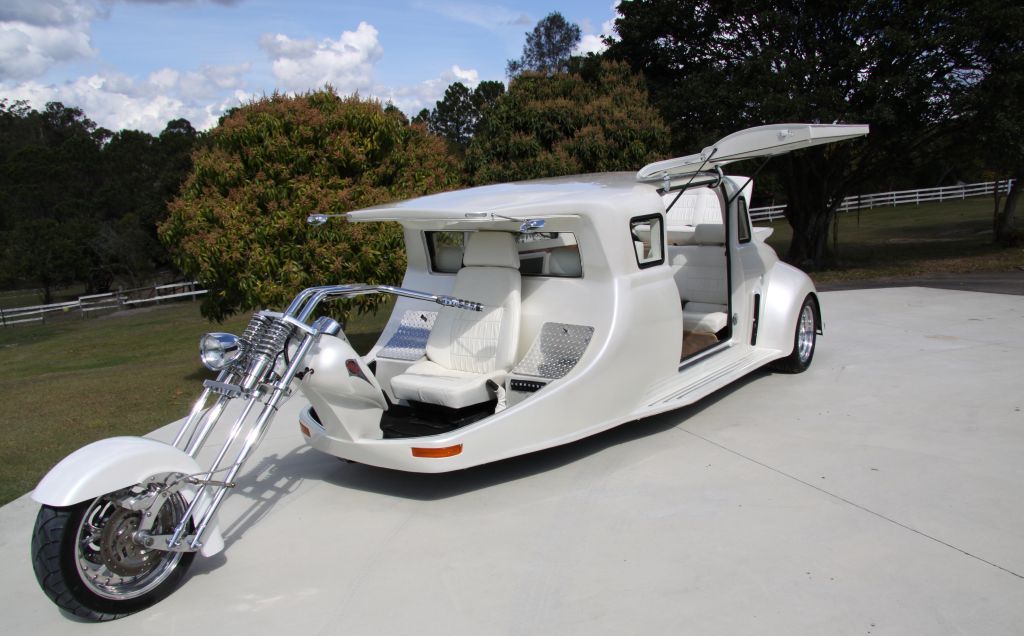 The stretch limo was a 1998 custom Harley Davidson American bike. It might be the only motorcycle that can can transport 10 passengers at a time, while keeping them entertained with a minibar and a flat-screen TV. The cabin of the stretch Harley accommodates 8 passengers and there are two backward-facing seats behind the cab.
Ferrari 360 Limo
This sleek ride hails from Australia. It's a stretched Ferrari 360 Modena and you can see the original 394bhp 3.6-liter V8 engine through the glass hood. Exotic Limo in Melbourne converted this sports car to carry up to 9 passengers who are treated black leather interior with a full bar, multiple TVs and cinematic surround sound system.
Ice Fishing Limo
You probably haven't seen this one yet. This cozy converted 1994 Lincoln is now available for daily rentals during the winter on the border between Baudette, Minnesota, and Rainy River, Ontario in Vaughn Murray's backyard. Although this limo is mobile, it can keep up to four fishermen comfortable with a space heater, built-in bar, and four 10-inch holes through the floor of the vehicle and the ice below. You can even rent extra fishing rods and minnows.
Mini Cooper Limo
This mini is mega! Lime Lite Coach Works made this stretched Mini Cooper with an open-air Jacuzzi. The pink party bus is a favorite for bachelorette parties with up to 6 guests.